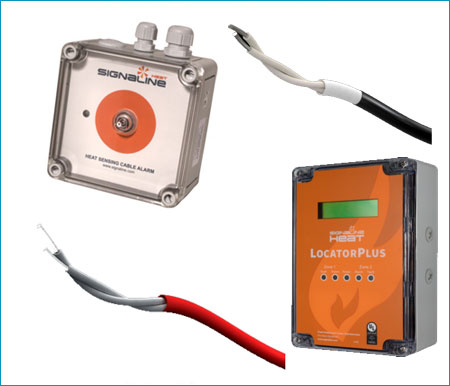 Products Description
All Signaline HD Linear Heat Detectors (Signaline HD) must be used with a Signaline HD Heat Sensing Cable Controller (Signaline HD Controller). The Signaline HD Controller provides early warning of an impending fire by detecting overheating in cable ducts, road tunnels, escalators, car parks, lift shafts, conveyer belts and similar difficult to monitor environments. The system uses Signaline HD Linear Heat Detector and a Signaline HD Controller plus a Signaline End of Line Unit. Signaline HD Controllers are very simple and easy to use.

LHD Alarm Temperature : 88°C; Outer Sheath: Chemical Resistant Black Nylon. Signaline Fixed Temperature Linear Heat Detector (Signaline FT) detects a build up of heat anywhere along its length. When any point along the length of the cable reaches a predetermined temperature an alarm is initiated. Signaline FT is available in four different temperature settings and two outer cover options making the Signaline FT suitable for use in a very wide range of applications.
For More Details Click Here...
Request Quote