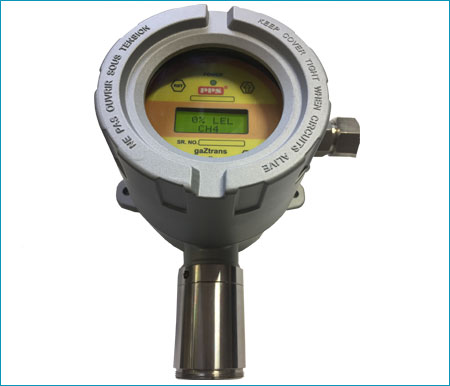 Products Description
The gaZsens Ex-I Combustible Gas Sensor with transmitter having measuring range of 0-100% LEL. Model gaZsens Ex-I is certified for flameproof Ex-I 'd' & weather proof by CIMFR, Dhanbad (Formerly known CMRI), tobe used in hazardous area for the detection of flammable gases Refer Chart. The detection is via a single pair of catalytic beads which provide reliable and stable detection. The gaZsens Ex-I combustible gas sensor having typical lifetime of five years, with a three-wire 4-20 mA output following the industry standard.
Features :

CIMFR certified. Designed to flameproof as per IS 2148:2004 (IEC60079- 1/2001) & Weatherproof as per IS 12063-1987 (IEC 60529-1989) for use in hazardous area application.
IP 55 sensor housing with a choice of threads. Flexibility for all installations.
Direct replacement for sensor filament.
Poison resistant catalytic beads. Proven, fast, reliable sensing technology with a typical 5 year lifetime.
Application :

Offshore, onshore, petrochemical and chemical industries.
Water treatment; semiconductor fabrication.
Gas processing plants.
Compressor stations.
LNG plants.
Sewage & Water treatment plants.
Gas Turbines.
Pharmaceutical & Steel Industries.
Request Quote